There hasn't been much happening with the boat and myself, though I did have the opportunity to travel back to Canada in December to visit friends and family.
However, today, boat things started happening again, in a big way. I had the boat lifted from the water in Plymouth, at the Mount Batten marina. This is as part of the annual servicing for anti-fouling and replacement of the anti-corrosion anodes. The boat will be out of the water for at least a week (weather permitting), and a number of things will be attended to. I wanted to have the boat repainted, but that will have to wait for another time.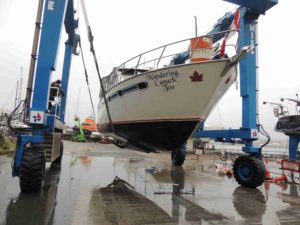 Meanwhile, I am ringing bells as often as I can. I have added several local towers to the list (St. Budeaux, and Sampford Spiney), and have been working hard on method ringing, learning Grandsire and trying to perfect Plain Bob. I have rung  doubles (5 bells)  minor (6 bells) and triples (7 bells), which adds layers of complexity. I have been very fortunate here in Plymouth, to have several towers to ring in, and people keen to make me work hard to progress. I am trying to meet the challenge! The bell-ringing community here has been very welcoming- no doubt they see a challenge in getting a Canadian to improve in ringing!