So, after the family guest adventure, I stayed in Mulhouse for a bit. Allowed me to explore the museums (amazing!), and a side trip to Basel (Bale) in Switzerland. Lots to see and explore. I went to the train museum, where the French train  history from about 1850 to the present day, is shown in the real train carriages and locos they have used. There was also a miniature, ride-on train, but the queue was long, and i am not willing to wait….
The canal is fine: not  lot of traffic,  and easy to navigate.  I spent a night on the summit, between the Rhine watershed (headed for the North Sea), and the Mediterranean, via the Rhone river system. Now on the downhill side, locks are very much easier, and farther apart. Then gradually down the big hill, from Montreaux-Chateau, all the way to St. Jean-de-Losne.
Highlights are Montbeliard, and the fancy chateau that was a Germanic Duke's palace in the day, now a museum, and music conservatory. The next major place is Besançon, which has a most impressive and commanding citadel, designed by France's golden engineer of fortifications, Vauban. His works are all over (see Sedan, Verdun, etc!). The river Doubs makes a sweeping loop around the city center (commanded by the citadel), and one can navigate the long loop (though there are shallows and rowing boats all over), so most (including me) used a tunnel under the citadel.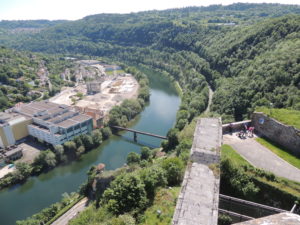 Then, along, and sometimes in, the Doubs, I continued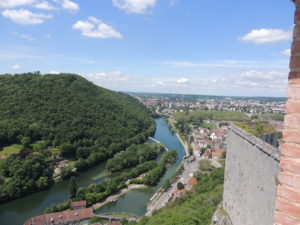 down the cliffsided valley, arriving at Dole. Lots of character in the town- and just across from the moorings, they were setting up a carnival. In fact, I couldn't stay, because the port was the location of the fireworks display, and boats had to move along. The city was full of culture, history, and interesting things.
Then the scenery changed dramatically. Gone the pleasant river valley, cliffs, chateaux, and welcome to the plains. Industrialized (one section stopping was forbidden because of the dangers from the petrochemical plant along the canal), and very much flatter, the canal leaves the Doubs and heads for the River Saône. Then a very short stretch of this wide river, and arrival at St. Jean-de-Losne. A small village, there isn't much here except the crossroads of the inland waterways of France. Boatyards, 5 waterways, large ports for long-term mooring, a hire boat place: this is boat central, but not much else!
And, thus ends my trip on the Rhône au Rhine canal.