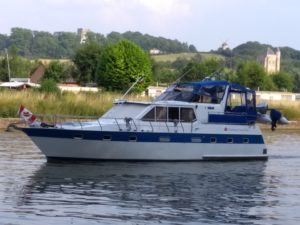 This is the web site of Wandering Canuck Too, a 44 foot (13.4m) steel cruiser currently in France.
This is the web blog of Wandering Canuck Too, a boat and a guy who want to explore the coastal waterways, canals and river systems of Europe. I offer a chance for young people willing to endure an old guy, and to explore using the boat as a base. I am exploring Britain and Europe, as conditions permit. I started on a narrowboat, and am now on a cruiser, able to do coastal waters as well as canals and rivers. Contact me for further information on this opportunity if you are intrigued or interested.

The adventure continues.

There seems to be confusion as to the name of the boat.

Wandering seems to be self-explanatory, but really implies no fixed itinerary, and one who moves. A Canuck is a Canadian: the term is related to interpretations of  language by the lumberjacks that were so important in the early times of this large part of the world. The etymology is unclear, but we Canadians are somewhat proud of this slang term of identification.

Your input appreciated! Comments and queries are encouraged.  Spam or advertising will never be posted.  As I am new to web sites and blogs, suggestions and hints would be welcome.