After spending the night in Uithoorn in a very expensive municipal mooring, and with brisk winds, we moved quite a way along the Amstel River towards Amsterdam, then turned off onto the Weesper Trekvaart, crossing the Amsterdam-Rijn Kanal, to arrive, with VERY blustery winds, in Weesp for a great mooring, mostly protected from the winds, and certainly peaceful. A series of thundershowers rocked us to sleep.
This morning was wonderful, with clear skies, sunshine and very gentle breezes: just perfect for a day of exploring so we set of to Amsterdam by train (I am intimidated to take the boat there, with traffic, no guaranteed mooring and if I phone to reserve- very expensive!)
Amsterdam was full of tour groups, and yet no obnoxiously so. We wandered about over the older center part of the city, with its rings of canals, many of which have low clearance and would have made navigation very difficult.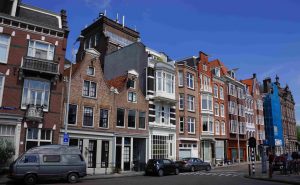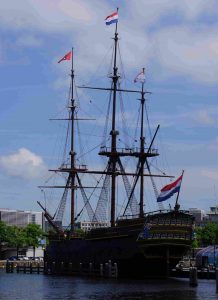 We saw lots of buildings with fascinating varieties of roof-lines, and the signature Dutch gable ends. The ship museum was closed, and as we wandered around, it was obvious that things were happening. The building closed for a political meeting of the European Council, and there was a large police presence. There was also a demonstration by farmers, with the cows on a barge, and lots of honking tractors parading around.
A highlight of the day was as we were getting ready for our supper, this busker was heard with the mellow tones of his playing wafting up from the canal. We wandered over to find him playing the barrel organ with the large wheel controlling the speed of the organ, using his other hand to play either a post horn or a fluegel horn, using his elbow to steer the boat, and his eyes to make contact with the crowd. It was magic. He played for about 10 minutes, then, using a wooden shoe suspended from a long fishing pole, collected donations from the crowd. A very entertaining end to our day in Amsterdam.