Well, lots to catch up on. We journeyed up the Thames to arrive in Oxford. The link between the river Thames and the Oxford canal is called the Sheepwash channel, and was a reminder that the Oxford Canal is for narrowboats of 7′ beam or narrower.
We spent the night moored at the terminus of the Oxford Canal, near a bunch of really rowdy and noisy partying people. We moved 100m up the canal for the next night! Much nicer. We spent the day exploring Oxford city, and the amazing colleges that make up Oxford University. Most were closed to visitors, but their exteriors are as different as can be imagined: everything from 15th century through to ultra modern.
We spent time on a formal tour of Christ College, which was amazing. The dining room was the inspiration for the dining room of Harry Potter's Hogwarts.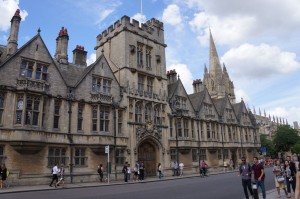 There was so much else to see, and the city deserves a much longer time, but we moved along, up the canal. The changes from the wide river, with many cruiser-type boats, to the narrow canals, exclusively the domain of narrowboats was dramatic. The canal is busy, but we almost never had to wait, until the last two locks today when we were boat 3 in the queue.
The scenery is picturesque, lush green, and very pretty everywhere.
Each of us has taken turns driving, operating the locks, and doing the domestic chores of life on the boat.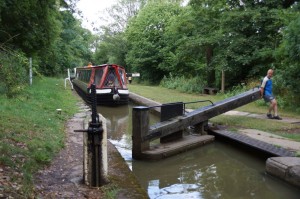 Last night we were moored at Enslow bridge (one pub, a gravel truck company and a small marina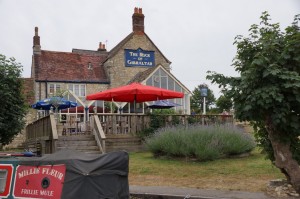 . The latter two were irrelevant, but the pub was great!
Tonight we are moored at Aynho Bridge and marina, again with the determining factor being the outstanding The Great Western pub, which had the most outstanding dessert combination platter, that Pat and Kerry will remember for a long time. We had rain last night, and a few showers again tonight, but it was another very wonderful set of days on the canal and exploring this magic kingdom.
Ruth et al says: July 30, 2013 at 3:43 pm (Edit) Hey Ed- we've been following along. Glad to see you get to do some of the manning-the-locks parts, too! It sounds like a wonderful time – lots of old buildings and pubs to keep you occupied. Love ya lots.
Sheila Gibbs says: July 29, 2013 at 4:23 am (Edit) All your pics make me wistful. (-: you're exploring the rural part of the country that in my mind is England.