Cornwall
I made the trek to Falmouth and settled there for a week or so to await crew for the major excursion to Penzance, around Land's End, and eventually to Wales.
Falmouth was a very good place to spend a few days, and this was enhanced by a chance to meet with friends of Nick Seager, David and Sheila, who live in the area. I had a chance to explore all around the town, and enjoyed fish and chips, breakfast on the beach, and walks around the castle and area.
Nick joined me and we set off for Penzance, with a lovely passage once the fog cleared for us to get out of the harbour. Arrival in Penzance was dictated by the harbour that only opens the tidal gate for about 2h at every high tide. We were installed in the working inner wet dock, and as you can see, surrounded by a most eclectic mix of vessels.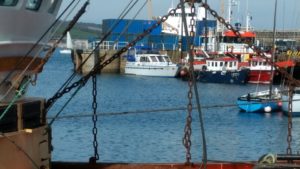 We had a chance to explore in Penzance area and visited St. Michael's Mount in the next village to the east. This is a sister monestry to the Mont St. Michel in France that I have visited in the past.
We only stayed in Penzance briefly (I'd have spent several more days there by choice), because the weather dictated the passage around Land's end. We departed at 0545 because of the tidal window, with a wonderful sunrise to welcome us on the journey.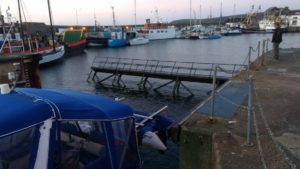 We made our way slowly towards Land's End, because of the tidal currents that we didn't want to fight against. A gorgeous morning cruising along and examining the South Cornish coast.
Once we rounded the point, the weather remained lovely, but there were much higher lumps in the water- rocks to avoid, but also a significant sea of swells and tidal confusion. all part of things in big water! No problems, though we did find out about things not well secured inside!
We made our way along the wild north Cornish coastline, noticing the many chimneys of derelict tin mines along several parts of the coastline. We arrived in Padstow harbour after 13h of cruising, and moored in the very quaint harbour there. All was well, despite the long day.
Our next destination is to be Swansea which we are aiming at for tomorrow, weather dependent. It looks ok (so far!).