It has been an eventful two weeks in Devon. I cruised from Torquay, around the 'corner' to Dartmouth Harbour in a very lovely day's cruising. However, I have discovered an ever-increasing oil leak from the engine. I tried to have two boatyards in the Dartmouth area look at the problem, but both were very busy, and despite promises to 'get back to me', neither did.

Dartmouth, however, is probably the nicest harbour to date. a lovely town, it is the center of tourism, so there are many tourist-type shops. I mostly ignored those, and was able to connect with the Dartmouth bell ringers. A very nice group, I rang with them in their three towers: St. Clements (older bells in a 6); St. Saviour's (lovely 8); and St. Petrock's (an older 6) (I WILL NOT comment on the name of this church and perhaps a link to kitschy tourist objects…). These towers are all part of the Devon Association, and so concentrate on very accurate cartwheel striking in rapid call changes. They rarely do method ringing (though they did try plain hunting because there were three visitors one evening). It was great to get back into working with a nice bunch of ringers again.
One advantage of the Dartmouth harbour is the proximity to the vintage steam train line that goes from Kinsgwear (the east side of Dartmouth Harbour) to Paignton. There is something magic and haunting about the sound of steam whistles in the valley.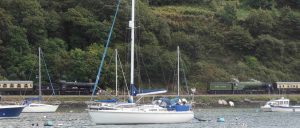 Having no luck getting the engine looked at, I called ahead and made arrangements in the Tamar Valley,
leading upstream from Plymouth, and a yard there would help, so I moved along with a brisk swell, into the very busy and active Plymouth harbour. Lots of Royal Navy vessels, but none of the submarines the area is famous for. I am just off Weir Quay, near the small village of Bere Ferrers. I was able to arrange a ring there, and the very cosy tower has a fairly unusual arrangements for their bells: 3 layers high, each with 2 bells. Quite different to move around and change the length of the ropes so much from bell to bell. This group is a very skilled group, and their striking was remarkable. A good thing that they have good bell control, as the tower has everyone bumping shoulders.
I'm again on a swinging mooring (that means attached to a floating buoy anchored to the bottom, but the boat swings in tide and wind.) The tide is a little more than 5m between high and low water, at spring tides (which are now- and not related to the season at all!). I use the dinghy to get from the boat to shore, but have to be careful, as the landing pontoon is stranded in the mud at low water.
This is a lovely valley, and very quiet. A sharp contrast to the many activities of Dartmouth. There are reminders of the military, as a couple of landing craft cruised by last night, in the full darkness, without lights. Another couple of assault craft went by this morning: obviously they use this valley as an exercise practice area. Their navigation is excellent, and they avoided me completely!
I'm off to the boat show at Southampton, where I hope to get some ideas and leads for refitting parts of this boat.