Sorry about the delay for the past few days. As we ascended the Huddersfield Narrow canal, we found ourselves in a beautiful, remote, picturesque valley (the Colne River valley). Awesome and really pleasant- but no internet service- even in Marsden. We spent until Saturday ascending the 42 locks, so Anne and Mike have had a good introduction to British canals and lock work!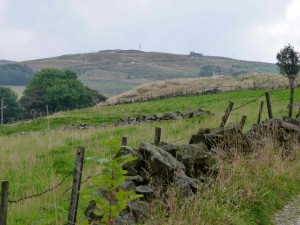 We moored east of Marsden just along the towpath, and explored the local paths. Right beside the lock was a farm selling herbal oils, eggs, veggies, and other home crafts.
Marsden is a very pretty village, perched in the valley with the river running right through the middle. There are the remnants of the ubiquitous mills that pepper the landscape of this part of Britain. Sandwiched among both the river and the mills is the canal, which runs directly through the center of the village. We enjoyed exploring, though the decidedly cool weather of Sunday discouraged a hike up to the moor. I had a chance to ring in Marsden parish church (only 6 as I was the sixth person present!).
Today we had our booking for the Standedge tunnel. At 675 feet above
sealevel, this is the highest point on the canal system. The tunnel is actually the first of 4 tunnels that today pierce the ridge of Britain. The other three are rail tunnels, one now converted to be the safety tunnel for canal users. It took us about 1.5h to get through and what an experience! At 5km long, and with lots of bulges, bumps, and protruding rocks, it is not for the timid nor inexperienced. We made it through with only 2 paint scrapes, which is apparently a very good trip.
We have started the descent in the Tame River valley on the other side, and stopped after 9 locks down in the village of Dobcross, at the Swan Inn, one of the best pubs I have encountered in my entire journey. Character, good food, fine beer, and an especially character-filled surrounding (people and decor). Most memorable.