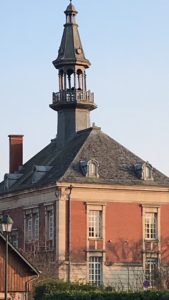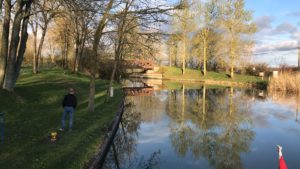 The first 10 days of cruising has allowed me to really get back into the exploration of France. First with friend Steve C aboard, we headed up the Meuse towards Verdun. This is the section that I explored with Pat and Kerry last fall, but what a difference in the river at flood, rather than in drought! The leaves are still just hinting, but the afternoons in the sunshine are really welcome, and spring-like. We moored, by ourselves, in the center of Verdun. (Last fall, the moorings were stuffed with boats awaiting rain and returning water levels, as the canal above Verdun was closed). A couple of days provisioning and exploring with Steve, and then he had to leave.
I then continued up the ever-narrowing Meuse river, through increasingly canalized sections, to Commercy, where I awaited my next guests, Kathy and Dan M. We set out, after awaiting the burning off of morning fog, further up the canal/river, eventually arriving at the junction of the Meuse canal and the canal Marneau Rhine Est, and a quiet village mooring at Pagny sur Meuse. A very sleepy village, but looming above are vast stone quarry workings, where a huge amount of building stone and other stone products are mined. Then, onward through a 0.8km tunnel and a flight of 12 locks, to Toul.
With a full marina, just outside the walled city, Toul is really full of history.