Belgium and then France
The Meuse. An historic route from eastern France to the sea, the Meuse is a most interesting waterway. We traveled south, up the Meuse to a spectacular mooring in Dinant, sandwiched in a narrow valley, overlooked by an impressive fortress, the Citadel. The distinctive cathedral, with it's restored bulbous spire, and carillon, was between ius and the citadel. We explored both, and ended the day with traditional moules et frites (mussels and French fries), all memorable.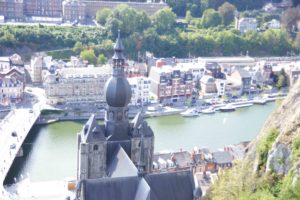 Then, further up the Meuse, to France and Givet. Despite mooring issues initially, we found a place and all was well. Then next evening, in an especially tranquil village, we moored in a natural amphitheatre, where the echo of dogs barking lasted for seconds, yet strangely super peaceful and restful.
The river provides all sorts of interesting things to see: chateaux all along the sides, cliffs (and climbers!), and lots of fortifications. We also met some new friends, (Diana and Chris on Esme) as well as Rita and Alex, and spent a shared evening of learning Farkle ( a dice game).
Then, on to Charleville-Meziers, where we were joined by our friend Nick Seager (needing a boat fix after selling his boat of 19 years..).
We left the very posh moorings there, and made our way to the confluence of the Meuse and the Canal des Ardennes. This was the only alternate route for me, and would have led towards Paris. However, this canal suffered extensive flood damage early in the year and is now closed. Hmmm. We also discovered that the upper end of the Meuse (now called the Canal d'Est) is also closed due to lack of water. This has made a significant challenge, as the only alternatives are to stop for the winter, or to retreat to, either Dunkerque, or towards Belgium or Holland to search for a mooring. Neither is a great option, so I am staying in Pont-`a-Bar for the winter. Quite remote, and there will be winterizing issues, but such is a boater's life.
We moved on to Sedan, where we discovered that it was fair weekend. The moorings are attached to the fairgrounds, so we were able to explore this very traditional agricultural fair. Show bunnies, chickens, sheep, all sorts of cattle, and horses (including the heavy draught horses of the Ardennes). Really quite amazing, as they also were showing the forestry skills of the horses, and some sophisticated forestry equipment. We also were entertained by the French national chainsaw
sculpture competition- amazingly chewing up tree trunks into artwork!
We also had a chance to tour the largest old fortification in Europe. This huge castle has evolved (as most have), through many centuries. The contrasts are evident, as the castle was never demolished to make way for new things; they simply added more. Part of huge defensive works around the main castle, it helped make Sedan an independent principality at one time.