Northern Ireland
We crossed from the Isle of Man, passing a square-rigged sailing ship that had sailed into the harbour the night before, full sails, then fired a saluting gun, and moored along the breakwater wall. An impressive sight.
The crossing was mostly uneventful, though a bit rough at times. We maneuvered between the islands and tide race at the entrance to Belfast Lough, and into Carrickfergus marina.
The weather deteriorated, and so a good excuse to spend time exploring. Carrickfergus Castle sits next to the Lough (Belfast estuary), and has been extensively restored. A very good introduction to older Northern Irish history. I tried to ring at the local church (St. Nicholas), with a separate bell tower, but it appears that there is no band at present, so no ringing.
We spent a day in Belfast, and really got to understand a lot more about the long difficulties and disagreements between those that wish to stay as part of the UK, and those that want a separate Ireland. Originally labelled Catholic against Protestant, it seems that really the view is much more based on political power. Certainly, the 'civil war' or 'the troubles', caused a great deal of heartache and damage to all concerned. Thing as MUCH better now, and most people would never want to return to the conflict styles of the past. We visited the Titanic museum, and gained an appreciation of how important shipbuilding was to Belfast. Today, not so much building as repairing and constructing wind turbines: the power source of choice in this part of the world. Lots of the rest of Belfast on display, and we saw just a little. I was able to ring here at St. Thomas' and was made to feel very welcome.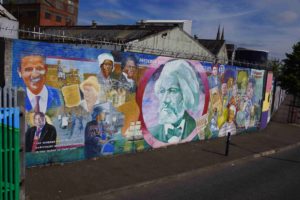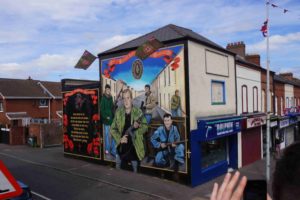 Another day of exploration saw us driving around the north-east of the country. We visited the Dark Hedges, also used in the TV series 'Game of Thrones'. Quite spectacular.
Old Bushmills was next, and a comparison of Irish whiskey and Scotch whisky. Then, to the Giant's Causeway, and a crawl on this famous geologic feature. We then headed off to a rope bridge to a small island, used previously by the salmon fishery. After paying the obligatory fee, we hiked along the coast trail to the bridge, only to be stopped by an officious and frantic young museum worker, who imperiously commanded all to step aside for all the rescue workers. Reality- they were already on the island, working with the very obvious coastguard helicopter, to rescue someone who had apparently fallen from the island cliff. Some people just don't respond well in emergency situations… The coastguard rescued the injured, the workers departed, and so did we, without actually seeing or crossing the bridge.  We continued leisurely along Irish roads and tracks, and finished the day back aboard.
Next: Scotland and Campbeltown!