We spent the night in Arnhem, having lots of time to explore and visit the museums. The Battle in Arnhem, September 1944, as part of Operation Market Garden, where the allies were decisively defeated in their attempt to seize the bridges across the Rhine, is embedded in almost every aspect of this city. The reconstruction, realignment of the roads, and the resettlement that had to occur as the Nazis evacuated 100,000 people from this area after the battle, has left an indelible mark on the city.
The largest church, now a city monument, was rebuilt completely.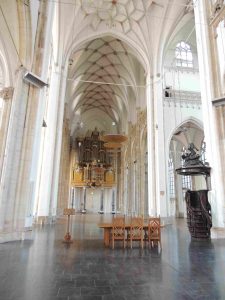 We turned just upstream of the city, onto the Ijssel branch of the Rhine. From 8km/h going against the current,  we were suddenly going about 18 km/h with the current. A VERY different experience! You can just see this at the very top left of the photo.
We spent the night in a marina along the river, and met some new friends, Bob and Henne. A great evening was spent with them. Then, further along, we turned at Zwolle, through a lock, and back to canal waters. A night in Zwolle after some time to explore the town, we set off northwards in ever smaller canals. Zwolle church has a (restored) Arp Schnitger organ from 1720's. Very impressive.
We arrived in the vast metropolis of Uffelte (population probably 100), and moored beside a farmhouse that looks as if it had once been a barn. The family was tractor obsessed: dad mowing with a lawn tractor, 3 boys, each with small pedal powered tractors towing a small trailer, and grandpa, with an antique hit-and-miss powered one, out for a drive to entertain the boys (one perched on each rear fender- a rare sight these days!). Small village life…
It is interesting to be on the big rivers, but also good to be back on canals that are narrow, with hand-powered bridges and locks, and in the midst of rural Dutch life.